Workshop on "Preparation of the groundwater supplement to the TDA-Med, SAP and ICZM Protocol", 22-23 February 2012

Workshop on "Assessment of Risk and Uncertainty related to Coastal Aquifers Management in the Mediterranean", 20-21 February 2012

IV International Symposium on Transboundary Waters Management, 15-18 Oct 2008

Workshop on Transboundary Groundwaters in SEE, 23-24 Apr 2007

SPI Water project: Pinios River Basin Workshop, 22 Oct 2007

Workshop on Developing Regional Cooperation for Shared Karst Aquifer Management in SEE, 27-28 Jun 2008
What is the UNESCO Chair INWEB?
What is the UNESCO Chair INWEB?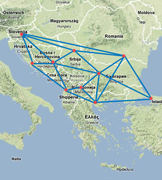 INWEB started as a non-governmental association operating as a network of networks, each of the 10 Balkan member countries having a focal point for its own country's members. Concentrating on transboundary waters, it aims to ensure top quality information on water problems in SEE, resolve conflicts in shared basins and develop a common approach for sustainable water management. In 2003 it was appointed as a UNESCO Chair on "sustainable management of water and conflict resolution".
Find out more about INWEB...
Databases on Internationally Shared Waters