Internationally Shared Surface Water Bodies in the Balkan Region
Data for the basin was compiled in cooperation with Zinke Environment Counsuting (2004)
Transboundary River Sub-basins
KOLPA/KUPA RIVER Sub-basin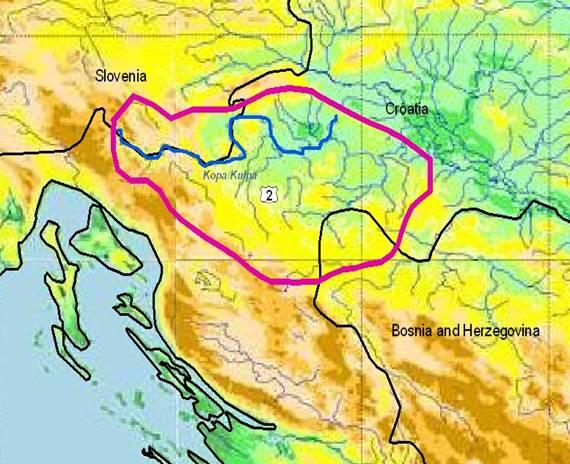 1.
GENERAL INFORMATION
KOLPA/KUPA River Sub-basin


(sub-basin shared by Slovenia, Croatia and Bosnia& Herzegovina)

Kolpa (Croatian Kupa) river extends over a total catchment area of 10,605 km² (126.1 km and 1.943 km² in Slovenia; in Croatia 294 km and 8,412 km² in the districts Kordun, Banija and Lika). Some 250 km² of the catchment (Korana river) are part of Bosnia and Herzegovina (Cazin area).
The climate is continental with Mediterranean influence (autumn maxima and summer minima of precipitation). The average flow is 201 m³/s at the confluence with the Sava (Sisak) with the regime showing spring and autumn maxima.
The upper, almost intact river section in the Dinaric karst region is protected and has no structural interventions.
The lower section is characterized by flat, alluvial terrains with fertile covers. There is also a canal Kupa – Kupa (21,9 km long, max. 765 m³/s, purpose flood protection).
The water from Kupa and two tributaries (Korana and Dobra rivers) are potential water supply sources for a wider region.
The main community is Karlovac (49,000 inhabitants). The main economic activities are metal, construction and food industries in Karlovac, tourism (Plitvice lakes national park) and agriculture (cattle breeding in the upper hilly part, small family estates with extensive agriculture in the lower sub- basin). Kupa river is therefore subject to latent eutrophication problems (in the groundwater and lower river section).

1.1. Geographical Properties

Longitude/latitude at downstream river outlet

Slovenia

Croatia

Bosnia and Herzegovina

45,38 N; 15,21 E

Mouth at Sisak:45,46N; 16,38E

Size of basin in km² - Length and width in km

1,943 km²/ ?

8,412 km² / 100 / 80 km

250 km²

Topography, including altitude range in m

132 m to 1,796 m
Mountains in south: 700m a.s.l.
Origin of the river: 313 m a.s.l.
Plain terrain on the northern part of basin
Mouth at Sisak: 115 m a.s.l.


Geology

Cretaceous Limestone on the head water part of the basin and Eocene flysch on lower, north-western part of the basin
Southern part: karst covered with land and forest, partly necked

Rainfall, average annual and seasonal distribution, etc.

Average rainfall: 1,819 mm/y
(Range 1,050 –11,740 mm/y)

1,800 mm/y in the South, 950 mm in the north of the basin

River(s), with lengths and average annual flows and seasonal distribution – flood and drought incidence and impact

Average yearly low water discharge: 8.9 m³/s
Annual mean flow: 112 m³/s
High water peak (100 years return period): 1,011 m³/s

Kupa Qavg = 201 m³/s with tributaries:
Korana Qavg = 29 m³/s
Dobra Qavg = 35 m³/s
Mreznica Qavg = 27 m³/s
Glina Qavg = 18 m³/s
Autumn and spring maxima
Good distribution of rain throughout the year.
1.2. Demographic Properties

General location of the basin

Slovenia

Croatia

Bosnia and Herzegovina

• The Kolpa rive basin is situated in the south of SI.
• It flows from East to West to the Sava River.
• The basin consists of hilly karst formations which collect water in the under-ground. The river collects the water in deep narrow valleys, where most settlements have developed.


Middle Western part of Croatia.
Northern part of Primorsko – goranska county and Karlovacka county


Total population in basin

?

286,000 inh

Population of principal cities or towns

Kočevje: 9,700 inh.
Črnomelj: 7,400 inh.
Metlika: 3,350 inh.


Karlovac 59,400
Duga Resa 12,100
Ogulin 15,050
Ozalj 7,950
Slunj 6,100
Ravna gora 2,720
Vrbovsko 6,050
Petrinja 23,400
Glina 9,900


Average per capita income

15,000 €/year

NA

Industrial and agricultural GDP

(Gross Domestic Product)

11,004 US$

2,400 $/inh.

Population living below the poverty line

?

12%

Other relevant characteristics

• Unemployment rate 6,2% in 2002
• Long term trends: intensive depopulation from 1945 on.
• Rural character of the area (a lot of small settlements)


High unemployment rate.
Low standard of people living in the villages.


1.3 Land Uses

?

Mountains: 35%
Forest: 45%
Pasture: 35%
Agriculture: 20%
Irrigated lands: poor

2. WATER RESOURCES / USES AND ENVIRONMENTAL SITUATION

Slovenia

Croatia

Bosnia and Herzegovina

2.1. Total available surface and groundwater resources

?

Surface waters 1,75 m³/s
Groundwater 8,95 m³/s


Net usable capacity of surface reservoirs

?

5 surface reservoirs with total of 34,75 M m³ net usable capacity

Total surface water abstractions

(estimated where nt measured)

?

4 locations Installed capacity 290 l/s


Total groundwater abstractions

(estimated where not measured)

?

87 locations Installed capacity 3,192 l/s


Surface and groundwater quality

(in general categories only)

?

Surface water quality I and II Underground water quality I

Water uses

(total, by sector, principal uses, current (estimated) and future (projected), include in-stream uses (fisheries, etc.) where appropriate)

• power development by chain of mills
• few small hydropower facili-ties on the tributaries
• riverside areas are attractive for recreation (canoeing, kayaking, angling and picnic areas, tracking)
• the majority of the river basin area is proposed as Landscape Park


• 4 hydroelectric power plants with 139 m³/s
• 18 fish farms with a total of 1,425 ha
• 40 locations for recreation
• 11 thermal and mineral water abstractions
• 58 mills and saw mills

Deficits and other resource concerns

(e.g. quality, extremes, environmental degradation)

• Deterioration of fresh water quality due to pollution from villages with no sewerage systems and treatment facilities
• due to increasing trends in plantation food production, disperse pollution is endangering water even more

Existing water potential in quantities and quality is much higher than the use
2.2 Environmental Properties

Sensitive ecosystems, biodiversity and environmental impacts in the basin

Slovenia

Croatia

Bosnia and Herzegovina

• Surface water quality is deteriorating
• The majority of the river basin area is proposed as Landscape Park
• Many localities are protected as natural heritage sites - hydrological heritage
• Natural Park Kolpa

Southern part of the basin is very valuable and protected (Plitvice national park, Risnjak, River Korana; Dobra and Mreznica)

Northern part over Karlovac is under the influence of industry and agriculture
3. BASELINE INFORMATION AVAILABILITY

Observation networks

Slovenia

Croatia

Bosnia and Herzegovina

National monitoring network of surface water quality
National hydrological network

Maps, with available scales, GIS and remote sensing imagery

Geographical data from national cartographic data base (1: 2,880, 5,000, 17,800, 25,000, 50,000)

Data archives and their adequacy

• Water uses, climate, hydro-logy and water quality data from the 'Republic of Slove-nia Agency for Environment'
• land use data from the national cadastral system (for parcels) or from aerophoto interpretation


Data archives at:
Croatian Waters,
State meteorological and hydrological service not publicly accessible.
Quality of data is not verified but of limited use

Research centers

?

Croatian Waters' research laboratory
Other contracted scientific institutions in Croatia

NAME AND CONTACT DETAILS OF PERSON(S) COMPLETING THIS FORM

Dr. Mitja Brilly, University of Ljubljana, Fac. of Civil Engi-neering and Geodesy, Chair of Hydraulics Engineering, Hajdrihova 28, Ljubljana, tel. +386 1 425 33 24, e-mail: mbrilly@fgg.uni-lj.si

Prof.dr.sc. Davor Malus
Faculty of Civil Engineering
Kaciceva 26
10000 Zagreb, Croatia
mail:malus@grad.hr

Prof. Tarik Kupusovic
Hydro-engineering Institute
Stjepana Tomica 1,
71 000 Sarajevo, BIH
Tel/fax:+ 387 33 207 949
E-mail: heis@heis.com.ba
tarik.kupusovic@heis.com.ba
Slovenia

Croatia

Bosnia and Herzegovina

4.1. International agreements / conventions and national legislation

Danube River Protection Convention (1994)
"Framework Agreement on the Sava River basin" signed by B&H, RH, RS, FRJ (2002), in force since June 2004. The Agreement covers all issues on RB management and navigation. The Commission, consisting of representatives from each country, is in charge of decision-making. It co-operates with ICPDR, Danube Commission, UN/ECE and institutions of the EC.

"Agreement between the Governments of Croatia and BiH on Water Management Issues". It was signed by the Federation administration; Republic of Srpska did not ratify the agreement so it is not fully in power.

4.2. Institutions / distribution of responsibilities

According to the bilateral agreement, governmental commissions are established on both sides. Expert Sub-commissions study different problems, prepare technical solutions and submit them to the Commission for approval. State governments then endorse the final proposals, and start realisation of the project. Final decision and all final executive documents are governmental.
According to the agreement all actions in the area of 10 km from each national border that can have adverse impact on watershed must be notified and approved from both sides. (10 km is not fixed distance).
Principal focus themes are:
* Navigation
* Water supply (transboundary communal water supplying systems),
* construction, and reconstruction of roads,
* flood control,
* pollution

The Commission furthers the good practice of the former commission for common water management (HR and SI) of the Former Socialist Federal Republic of Yugoslavia.
The new SI water law (2002) is in force but new institutions for developing RBM are yet not established. Emission control of waters is subject of the environ-mental protection law (1996 and 2004).
There is no regional political structure established yet in Slovenia but there are informal contacts between local communities and the local fish angling societies.


Mentioned agreement is enforced with good success with Slovenian side. There are no major problems in communication and negotiations to reach optimal results.
Completely different situation is with B&H side.
For the time being master plan does not exist. All actions are based on the most urgent pro-blems that origin from everyday life. Signals and actions that would lead to integrated planning and decision making do not exist.

Since 1996 BiH is actively involved in the work of expert teams of the Danube River Protection Convention (representatives in the ICPDR and the expert groups AEW, MLIM, EMIS, ECO etc.). At the moment procedure for adopting BiH, as regular member is in process (the Ministry for Urbanism, Civil Engi-neering and Ecology of Republic of Srpska is the national focal point and referent center for coordination and implementation).
In both Federation of BiH and RS the agency with primary responsibility for the water sector is within their res-pecttive Ministry of Agriculture, Water management and Forestry (MoAWF). Within MoAWF, each entity has a Department of Water Management (in RS it is the Directorate for Water) responsible for the water strategy and policy, the issueing of agree-ments and permits, setting of stan-dards and regulations; ensuring com-pliance with laws and regulations through licensing and inspections; and overall control of Public Compa-nies for Watershed Areas.

Slovenia

Croatia

Bosnia and Herzegovina

4.3. Planning / Decision-making processes

Decisions are shared between the Ministry of Environment, Physical Planning and Energy, and local communities.
At the moment there is no common decision-making or planning process for water management development on transboundary rivers.
There is only maintenance activity on border rivers.
Major activities in Slovenia are preparations for implementing the WFD.
Realization of existing and past arrange-ments was efficient with Slovenian side. Activities with B&H side are negligible. The reason is in the neglecting of that part of the basin (Korana RB) from both sides.

Under the Water law (1998), in the Federation of BiH the MoAWF delegates the main responsibility of preparation of strategic decision and planning to two Public Companies of Watershed Areas, one for the River Sava and the other the Adriatic Sea. Republic of Srpska has only single authority in charge for both main river basin districts.
The new Law on Water Protection, based on EU WFD, calls for a river basin approach in water administration and establishes new bodies responsible for water protection based on river basins.

4.4. Finances

Co-operation with HR is based on funds from the state budget. There are no long-term investment policies, nor management plans that policies would follow. EU funds are used at the moment only for increasing the water quality in Slovenia; they can not be used for the Croatian part of the watershed.
All actions on projects (exclusive-ly immediate priority actions) were financed only by state budgets. Any investment policies don't exist nor the management plans that policies would follow.

According to the Water Law (1998), Article 168, financing of water mana-gement is based on the following principles:
• Resources for financing water management are provided from general water fees, special water management fees, fees from concessions and funds provided by special law, as well as from other resources defined by this law;
• General water fees; special water management fees and fees from concessions are to be used for all beneficiaries on the territory of the Federation and/or main watershed areas, unless otherwise defined.
Slovenia

Croatia

Bosnia and Herzegovina

4.5. Past and present major projects (including listing of donor interests)

Kolpa river has a specific water regime of karst rivers with extremely low flows. The in-stream water levels are maintained by weirs developed for waterpower use at mediaeval times.
Slovenia unilaterally proclaimed in 1998 nature areas along Kolpa river.
A hydrology study and water quality study of the entire Sava River basin was elaborated just before the SFRJ collapse as a fundamental research for water management planning.
The water management plan for SI was developed in 1977 and is not up-to-date anymore.
There are now studies in pro-gress under the 6th EU Frame-work Programme on water quality and information system, and on water management.
A few projects have been realized in the field of water supply, flood protection, and road construction.
All projects were financed from national budget and Croatian Waters.
Details of projects records are archived in the Croatian Waters, and Ministry of finance and are not easy to obtain.
SDC – Development of the Una River Basin Program but embraces also part of Kupa river Basin in B&H. Program started in March 2002, first phase finished in December 2003, was extended and is expected to finish in December 2005;
EC (CARDS 2002) - Development of a national environmental monitoring system – started in September 2003

4.6. Stakeholder Participation

Main stakeholders in SI are communities along the Kolpa River, fish-angling society and rafting services.
The new Slovenian water law is in force but the new institutions are not established yet. There is traditionally excellent co-operation of the very well organised associations, like angling society, rafting organisations in SI and HR.
Generally speaking stakeholder participation, policy on their participation, or any plans for future participation does not exist. Whole decision-making process is within governmental institutions.
In some projects local experts and represent-tatives are called to join commission work, but they are not in charge for decision-making. In some problems that have strong political background the "voice of people" is listened through public media.
Kind of "pressure" from abroad is felt in the political and civil society, but positive reac-tions are still poor.
Main stakeholder is Croatian Waters, respon-sible for protection and development of the water regime.

Stakeholder participation in the Kupa river basin in B&H is rather poor. Civil sector is still developing in BiH, but the NGO sector especially the one called "Unski Smaragdi" is a very active player in the environmental sector.
Slovenia

Croatia

Bosnia and Herzegovina

4.7. Awareness / Communication

Generally speaking, the level of public awareness in the entire country is average. Local people oppose large projects, especially in their neighbourhood.
There are many local initiatives developed mainly by the communities and stakeholders on Slovenian side.
Generally speaking, the level of public awareness in the whole country is low, and not articulated.
At this moment the most positive role in awareness – raising and education has national TV with different contributions of journalists specialized in the field of environmental problems and also documentary (scientific) program (domestic and foreign).

Bosnia and Herzegovina has not signed the Aarhus Convention, but the Entities have laws on access-to-information, as one way for its implementation.
At this moment the most positive role in awareness – raising and education is with different local and mass media.
Slovenia

Croatia

Bosnia and Herzegovina

5. CONCLUSIONS / RECOMMENDATIONS

5.1. Identification of critical problems (transboundary situation)

- problems related to the resource
- problems associated to uses, needs and demands
- problems affecting ecosystems

Main problem is the different economic and political situation of the countries that share the sub-basin. Former water management on the common river was well developed and mainly financed from Slovenian side. Areas on both side of the river are economically under-developed.
The nature of the Kolpa River Basin is partly protected with various levels of protection on SI side but this is different on HR side. There are also different priorities in water management development on both sides. The water management plans developed almost 27 years ago are not up-to-date.

The most important problem on the common part of the Kupa RB is preserving the rather good situation. Part from Croatia and from Slovenia is not densely populated; agricultural and industrial activities are not intensive.
Potential problem is pollution from the Zagreb-Karlovac-Bosiljevo–Rijeka highway (drainage with BMP's is in function), and from the local road Cabar – Brod na Kupi.
The upper part of Kupa river is of high natural value. It covers the national park Risnjak and a few unique spots. Main goal is preserving those localities from degradation.
In the 80's (before the war) part of the Kupa basin in B&H was in very dynamic development. Agricultural land was increasing, and many farms and food industry facilities were constructed. River Korana was endangered from her tributary Mutnica from B&H. Nowadays all those facilities and activities do not operate, but in the future they may start again.
Problem of economic migration is caused by local poverty.

The most critical problems are:
• Wastewater generated by the population, farming and industry is discharged directly without any treatment into the closest water bodies or into karstic holes, which are connected to groundwater;
• Water supply systems cannot meet the needs of the consumers during the dry season due to a combina-tion of inadequate availability of water resources and inadequate capacity of the infrastructure;
• Dumping sites where the waste is disposed are mostly placed near the river, and in most cases are used without special protective measures.


5.2. Main achievements

The Slovenian side rather unilaterally developed protected nature areas; sewage systems are now under development. Industrial pollution decreased tremendously ten years ago when industrial polluters stopped their production due to economic reason.
Agreement reached on the main-tenance of abandoned weir structures in the stream (the country on which side the mill structure is situated is responsible for maintenance and recon-struction of the weir).
Agreement on boating on Kolpa river was also made (not publi-shed).

Main achievement is the establishment of open cooperation with the SI side on expert level which is enough for a start. Both sides react positively and serious on each problem that emerges in the basin.
One transboundary water quality station is established at Bubnjari.
Agreement was reached on the problem of road construction and reconstruction.
The REC office sponsored a project: "Sustainable Future for the Kolpa Valley" carried out by the Slovenian E-forum and the partner organizations Vitra and Eko-Liburnia (2001 – 2002).

The current reforms of Water Sector in B&H.
Project entitled "River Basin Manage-ment Program", launched in November 2003, and to be finished in 2005.

5.3. Key challenges

Realisation of RBM Plan with yet non-appropriate political and economical frame.
• Started projects with B&H side.
• Environmental research in the basin (all components).
• Realization of RBM Plan
• Capacity building
• Involvement of local communities
• Mobilization of all kinds of capital for suitable economic projects.
• Building strategy for stakeholder participation
• Stopping of economic migration


• Establishment of a River Basin management approach
• Drafting secondary legislation
• Training of Staff of River Authorities
• Drafting an appropriate financing model
• Public participation strategy of River Auth.s for policy formulation, approval of policy documents and plans, implementation and monitoring
• Introduction of GIS
• Mapping of water bodies
• Developing internet page dedicated for each river basin

5.4. Donor interests

There is no recognised special donor interest.
Overall ability to mobilize domestic and private capital and ODA is poor, because the general strategy for RB development and management is missing. There is lack of good programs to offer.
Donors interests will largely depend on concrete results obtained through water sector reforms in BiH
5.5. Recommended priority actions

• Develop documentation and collect data for the RBM Plan with transparent interests from both sides.
• Extend nature-protected areas onto the Croatian side of the watershed.

• Investigations in the basin (hydrogeology, hydrology, biology,
• Non-point pollution sources

• Preparation of primary and secondary water-sector legislation
• Establishment of a new organizational set-up of the water sector for the main managerial levels (State, Entity and River Basin)
• Preparation of public participation programs;
• Human capacity building
• Preserve protected areas
• Investigations in the basin (hydrogeology, hydrology, biology)

6. MAIN REFERENCES, BACKGROUND DOCUMENTS

Data from the Ministry of Envi-ronment, Spatial Planning and its Energy and Environment Agency of SI; internet, private sources.
Data from State Water Directorate, Croatian waters, Internet, REC-Zagreb, private sources.
Data from HEIS documentation, Internet, private sources.